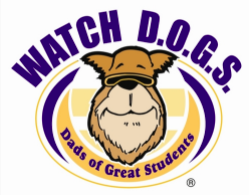 The Watch DOGS Program has been reinstated for the 4th quarter of the 2020-2021 School Year! 
We are excited to bring back our Watch D.O.G.S. program. Students love having Watch DOGS throughout the school year. Please choose an available date, without a name already in the slot, that works with your schedule. Please plan to arrive at Harvey Oaks at 10:00 and stay until 1:30 on the day that you have signed-up for. When you get to Harvey Oaks, check in at the office and we will get you set up with a schedule for the day.
You will be asked screening questions before entry to the building. A mask is required for the entirety of your visit. We ask that you also maintain 6 feet distance from students and staff when possible. During lunch time, you will eat only with your student and maintain more than 6 feet of distance between your group and any other groups eating. Please sanitize your hands upon entry to each room you enter. It is important that if, after your time in our school, you were to test positive for COVID-19 that you notify the school immediately, so we can conduct all necessary contact tracing.
If you are interested in volunteering, please complete the registration form below. Then, visit our Sign Up Genius for available dates.
Registration Form
Example Schedule
Sign Up Genius
WATCH D.O.G.S. is one of the nation's largest and most respected school-based, family, and community engagement, organizations in the country. In 1998, the very first WATCH D.O.G.S. program launched at Gene George Elementary in Springdale, AR. Today, more than 6,450 schools across the country have launched a WATCH D.O.G.S. program of their own. Each school year hundreds of thousands of fathers and father-figures make a positive impact on millions of children by volunteering millions of hours in their local schools through this amazing one-of-a-kind program.
Visit the Watch D.O.G.S. website for more information.